At CPL Domestic Maintenance we use the latest technology, equipment and materials developed by the building industry.
We are a Certified contractor approved by Pam Ties Ltd in accordance with the latest Building Research Establishment B.R.E and British Standards Institution B.S.I
Condensation & Control :
Condensation dampness is a fast growing problem. It's estimated that 1 in 5 houses in the UK are poorly ventilated leading to various problems including mould growth, streaming windows & poor indoor air quality which can effect people with Asthma. Properties that have been made more energy efficient are also at risk as the moist air stays trapped inside the home due to UPVC double glazing & insulation. The average home produces up to 10 litres of water per day simply by cooking, bathing & washing. During the autumn and winter months some occupants are more likely to dry clothes inside on radiators etc and keep windows closed so heat isn't wasted. Excess moisture is absorbed into the air where it naturally travels to the coldest parts of the house where it condenses on cool surfaces like windows and walls.
Mould development within a building is unlikely to occur if the relative humidity is maintained below 70%. Heating the air alone is unlikely to be a satisfactory solution, not only on grounds of cost, but also of practicality. Improving heating and ventilation coupled with specific action in relation to cold spots usually result in a significant improvement in conditions, although there maybe circumstances in which alternative methods are required. A modest but constant background heat is preferable to intermittent heating since this will help to maintain a higher ambient temperature in the fabric of the building.
So what's the solution?
The installation of a Positive Input Ventilation (PIV) unit.
The PIV unit uses air displacement to ventilate a whole dwelling, improving indoor air quality and stopping or preventing condensation problems from occurring. A single fan unit mounted in the roof space supplies fresh, filtered air into the dwelling via a central hallway or landing. This creates a slight positive air pressure which forces stale, moisture-laden air out via fortuitous air gaps and natural leakage. The ceiling diffuser has been aerodynamically designed to direct incoming air along the ceiling where it mixes with warm, buoyant air before re-circulating downwards, thereby ensuring a more even thermal gradient between the floor and ceiling.
Features and Benefits
Health Benefits : Clinical trials have proven that PIV reduces Dust Mite allegants helping Asthma and allergy sufferers. FACT 5.4 Million people in the UK are currently receiving treatment for Asthma
Energy Saving : Supply-air taken from the roof space is slightly warmer than outside air so can provide some energy saving compared with a conventional extraction system, which extracts condensed air but also extracts warm air from the property
Low Running Costs : With its DC fan, the PIV Loft Unit is extremely energy efficient, costing from as little as 1 pence a day to run
Minimal Maintenance : Replacement of the long-life filter is only required every 5 years (if extremely soiled) otherwise you can hand wash in warm water and hang-dry.
Aerodynamically Designed Diffuser : The diffuser is designed to direct incoming air along the ceiling, thereby mixing with, re-using and re-circulating high level warm air.
Contact us for a FREE estimate & survey.
Capillary Rising Damp:
Rising damp is a form of dampness that occurs, when groundwater rises up through walls, floors and masonry via capillary action, which is the ability of a liquid to flow in narrow spaces in opposition to gravity. In simple terms, the water rises up the wall of a building in the same way that oil rises up through the wick of a lamp using small continuous pores (capillaries) in a material. Bricks and mortar can be very porous and contain many fine capillaries, through which water can rise.
The most common visual symptom of rising damp is a clearly defined band of dampness, starting from the floor upwards – often causing paint to flake or wallpaper to peel.
However damp walls, caused by rising damp, can also result in a wide range of other symptoms including musty odours, crumbling plaster due to salt crystallisation and rotting of floor timbers.
Walls affected by rising damp are also contaminated with salts which means it's not possible to just replaster or paint the walls and hope the problem goes away.
So what's the solution?
In the past, rising damp was treated by removing the old plaster then liquids were injected under pressure, to block the pores of brick, stone and masonry and create a liquid damp-proof course. An expensive and complex pump system is required to inject the damp-proofing fluid into a wall. The walls would then be painted with a salt neutraliser, rendered with sand and cement then replastered.
Today's method is less time consuming which of course means less expensive, although there are similar procedures involved.
Instead of injecting liquid into the brick under pressure, silicone emulsion cream is injected into the mortar bed without the use of complex pump systems. The silicone cream fills the capillaries (pores) in the mortar and also the brick which then repels water.
The walls are then covered with a damp proofing membrane.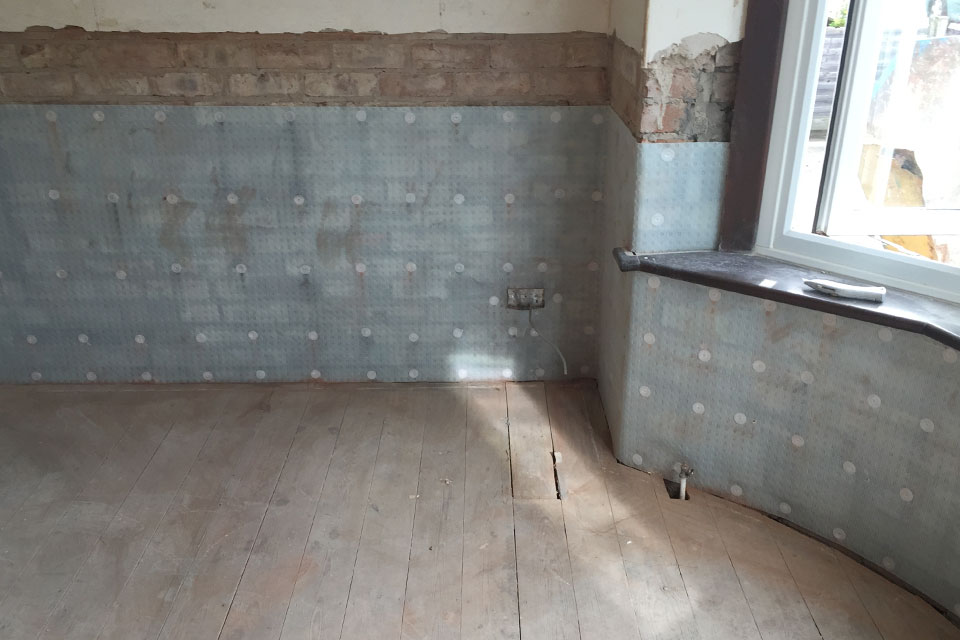 This forms a thermal layer which helps warm the surface and control surface condensation. The membrane is then covered with plasterboard so no waiting for the sand and cement render to dry and can be plastered immediately saving time and money.
Contact us for a FREE estimate and survey.